What a year for climate action! Some big stuff went down in 2015, and it was an inspiring time for voices speaking out against climate injustice. Here's our rundown of the most significant environmental happenings from this past year. Apologies in advance for the United States goggles, your fav is problematic. (We're your fav right?)
Corporate Social Responsibility Actually Made Some Difference
If you're not familiar with the concept of Corporate Social Responsibility, that's my fault and I'm sorry, I keep meaning to tell you about it. Basically, CSR is the idea that being better for the world is going to be better for your company. Their are statistics for this, it is real*. If you use babies as a cheap source of meat for your meat product and people find out, your business may suffer. If you spill oil all over the ocean, people might divest from your company. ET CETERA.
Anyway, CSR is all the rage rn in the investor world, especially when it comes to climate change. Corporations are actually catching on a lot more than they are letting on:
This past year, Shell agreed to support a shareholder resolution requesting more robust climate data disclosure, and then BP urged shareholders to follow suit! (The idea here being, investors want to know that you are preparing yourself for the environmental apocalypse, so they are requesting more disclosure around these topics to base their investment decisions on. And money rules the world. You can learn more about sustainability accounting and the push for "integrated reporting" here.
Volkswagen happened 🙁
McDonalds has pledged to source only cage-free eggs, as have several other large corporations. Read more here.
*Just, like, so you all know, this is what Jessi does for her job. It's complicated, but full disclosure 😉
The Drought
2015 was the year of hating the almond. Weird, considering how much more water it takes to keep livestock, but let's not rehash old fights. (But like, seriously.)
For a recap on California's v messed up drought situation, check out Miriam's video.
Divestment Galore!!!!!
In 2015 so many folks fought like hellcats for the divestment of their institutions from fossil fuels. And so many institutions pledged to divest from some to all of their fossil fuel investments, including The Rockefeller Brothers, Uppsala Sweden, California, all of Norway, even the Church of England. The Divestment issue was a hotbed of student activism, as students urged their Boards to put their money where their mouths are on sustainability issues.
And best of all?: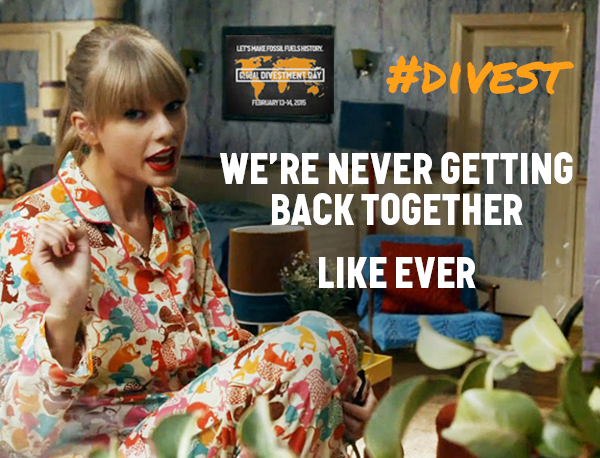 Photo cred: 350.org
Next up, the vatican!
Obama's Climate Action Plan
Obama released his climate action plan, and it's clear that the President actually plans to take action on climate change.
https://www.whitehouse.gov/climate-change
Photo cred: cognoscenti.wbur.org
That Big March That Happened
Okay, so the People's Climate March happened in 2014. But 2015 wasn't devoid of large-scale climate action! The night before the Paris Climate Summit, the Global Climate March consisted of over 2300 events in over 175 countries, despite the "main event" having been quelled in Paris as a response to the terrorist acts the week before.
Photo cred: Mashable.com
Rejection of Keystone XL
After seven hard years of fighting, activists' voices were heard and Obama officially rejected the Keystone XL pipeline, denying TransCanada the permit to frack their way through the US and citing the US's role as leader in combating climate change.
COP21
Not only was it Kendrick's New Year's resolution to stop all the pollution, but it was the World's.
It's not perfect, but an agreement was reached on how to tackle a very pressing issue.

Of course, that's just the tip of the iceberg. This past year was wild, wonderful, terrifying, inspiring. And we're looking forward to a 2016 dedicated to reaping what we've sown, but not without hard work. (End sermon.)
Cheers, 2015! 🍾🍾🍾
Other Lists
If you are a glutton for end-of-the-year lists, here are some other great ones:
And last but not least,
Honorable Mention
Want some inspo to make 2k16 > 2k15?